I will formulate and customize for you a unique product that will help to relieve your symptoms or offer support to your health and well-being.
Aromatherapy is the therapeutic use of essential oils (alone or blended) by a trained aromatherapist to enhance the healing process and promote health of the body, mind and spirit. Aromatherapy can help with stress and sleep, aches and pains, depression and anxiety, PMS and menopause, focus and concentration, muscle tension, smoking cessation, soothe dry skin and more.
Thank you for your interest in my Aromatherapy services. I am a Level One Certified Aromatherapist and I am currently working on my Level Two Professional Aromatherapist which will continue to expand my knowledge in this growing field.
Aromatherapy Consultation Package Includes:
30-45 minutes …. Intake Consultation
30 minutes …. Follow up session (included)
1 custom blend included for your use (could be lotion, diffuser, inhaler, roll-on, bath salts, etc.)
If multiple conditions, additional customized products can be included at extra cost.
See bottom of page for setting an intake consultation.
Each product is accompanied with a detailed description of the product and directions for use.
I recently had the good fortune of volunteering as a case study participant for Deb Phelps as she completed her certification as an Aromatherapist.
Throughout the experience Deb was thorough, thoughtful and friendly to work with.
The process started with a confidential health intake. Based on that information Deb researched which oils and blends would be the most helpful for me. She took into account essential oil aromas I was drawn to or did not like. I was given two blends. One a diffuser blend for insomnia and the other a massage oil blend for body pain. I have worked with essential oils and I was pleased and surprised at how helpful the products were.
I highly recommend Deb as an aromatherapist that can help you also.
Teresa Pellitteri
What's an Aromatherapy Consultation Like?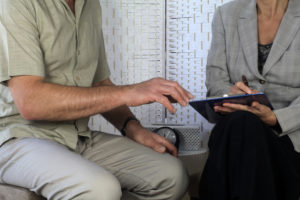 An aromatherapy consultation is made up of several steps: holistic aromatherapy assessment, assessment review, treatment design and orientation and follow up. Understanding what to expect from your consultation can help you make the most of your appointment.
AROMATHERAPY ASSESSMENT
An aromatherapy assessment begins with the client filling out a detailed form covering the client's holistic health history, conditions, reasons for seeking aromatherapy, application preferences, and other information. This information can be provided prior to the actual aromatherapy consultation with the aromatherapist.
AROMATHERAPY HOLISTIC ASSESSMENT REVIEW
Whenever possible it's preferable to arrange an in-person review. Face to face time reveals additional important information. Sometimes the aromatherapist identifies information that the client did not realize was relevant and, therefore, left off the aromatherapy assessment form. During the review the client and aromatherapist review and clarify the information on the form. The review session lasts about 20–30 minutes, but may last longer if the assessment form is completed during the visit. The review can be conducted on the phone for returning clients, but this is not preferable. Phone consultations and reviews are not recommended for first-time clients. Currently due to COVID-19, all consultations are done by Zoom or phone.
DESIGN OF AN AROMATHERAPY TREATMENT/PRODUCT AND ORIENTATION
Following the review, the aromatherapist creates a unique blend and product to address the client's needs and/or intentions such as to relieve stress, eczema or aches and pains. Products can take the form of massage or bath oils, balms, creams, personal inhalers, diffusers, etc. Clients are asked about their application preferences, and, if appropriate for the condition or issues, the aromatherapist will design the product and treatment regime according to those preferences. An effective application needs to take into consideration the client's preferences in order to encourage compliance.
Blends and products are designed to take into account the client's needs and unique characteristics (e.g., skin type), his/her preferred method of application, the therapeutic attributes of both the essential oils and carriers (the latter also have significant healing properties) and the best method of delivery for the specific product and condition Each product is accompanied with a detailed description of the product and directions for use. (See Glossary below)
FOLLOW UP
The aromatherapist follows up with the client for feedback on the treatment. Follow ups also provide an opportunity to check up on whether the product is helping the condition, and, if not, why not. Sometimes the treatment needs to be adjusted. In nearly all situations, more than one type of application will be appropriate, and essential oil and carrier blends can be altered and deliver an equally effective treatment. Depending on the condition and treatment regime, the aromatherapist will follow up within a couple of days to a week or ten days. Again, depending on the condition and regime, this follow up can take place over the phone or in person. Multiple follow ups are not uncommon. Additional reviews and treatment adjustments are likely with chronic conditions and long-term regimes.
GLOSSARY
Essential oil is the all-natural aromatic essence extracted from a whole or complete individual plant specie. It is hydrophobic (doesn't like water) and lipophilic (loves lipid or fat) mixture of aromatic components. Essential oils are not actually oils or lipids. They do not leave an oily residue.
Carrier is a substance in which essential oils are diluted. Carriers have several functions. They possess their own nutritive or healing properties. They help to spread essential oils evenly and over a greater surface area, and they influence the rate of absorption. They can act as preservatives or antioxidants (depending on the carrier) and dilute essential oils that would otherwise be too potent or irritating to use at full strength. Typical carriers include coconut, almond and other oils, or shea, cocoa and other butters.